The ArchStudio Launcher
The ArchStudio Launcher view provides a convenient way to open ArchStudio documents, invoke ArchStudio tools, and create new documents. When switching to the ArchStudio perspective in Eclipse, the Launcher view is displayed in the bottom-right quadrant of the screen.
A Launcher screenshot is shown here: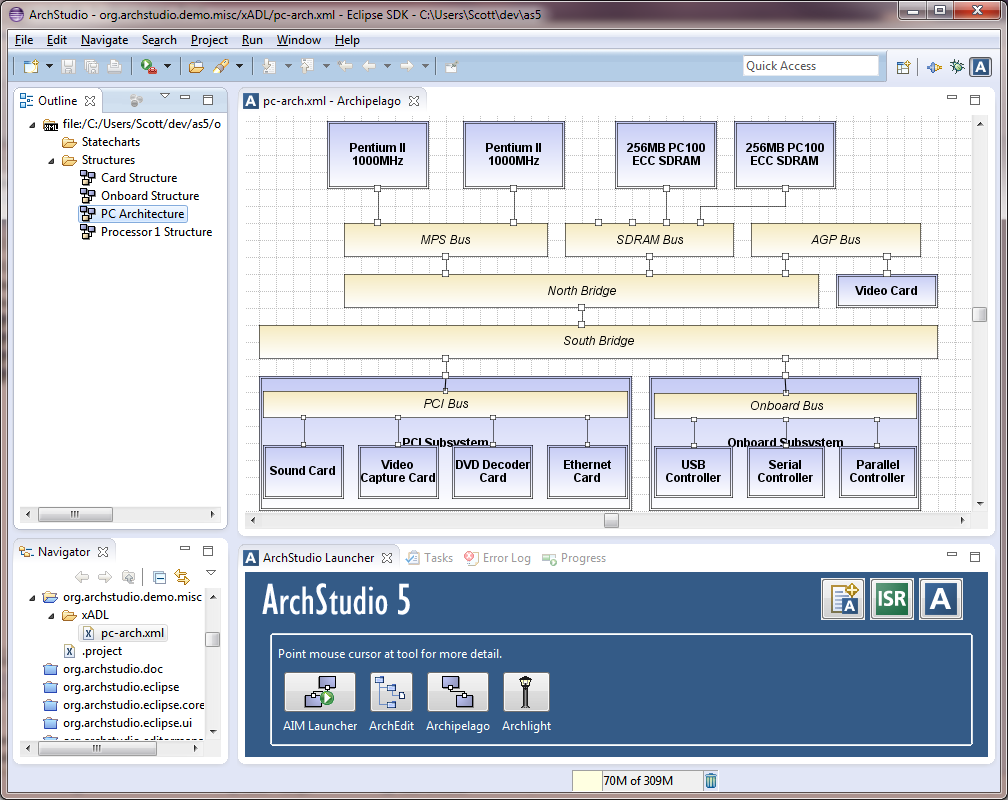 Opening a File with Drag and Drop
To open a file in the launcher, drag it from the navigator view and drop it on the editor with which you want to open the file. This will open the given file in the given editor.
Opening a File by Choosing an Editor
You can also open a file by clicking on an editor button in the Launcher. This will bring up an Open Resource dialog, with which you can select a xADL file from the current workspace. Selecting a file in this way has the same effect as using drag and drop.
Creating a New File
The title bar of the ArchStudio launcher contains several utility buttons. The leftmost button, when clicked, brings up a dialog that allows you to easily create a new architecture description file.
Other Functions
The other buttons in the title bar launch the default browser on the system, navigating to the ArchStudio website and other useful sites.
Contact Us
If you have questions not answered by this website, please feel free to contact the software architectures group at UC Irvine through the ArchStudio developer's (mailman protected) email list at: archstudio-dev [@] uci [.] edu. (Note: You must subscribe to the mail list before you can post to it.)