Reinhold Achatz

Vice President Software and Engineering
Siemens Corporate Technology

Friday, May 26, 2006
Abstract
For many companies, including leaders in software development, software is becoming an increasingly critical competitive factor. For example, at Siemens, sixty percent of our business is strongly influenced by software and approximately fifty percent of all Siemens patents are software related. With more than 30,000 software developers worldwide and an expenditure of more than 3 billion Euros, Siemens is playing in the 'Champions League' of the world's leading software companies. But this fact is not well known because most of the software developed at Siemens is embedded. It's embedded in the products and solutions sold to customers, such as medical devices, automation controls, trains, automotive components, and even power plants. Yet a major part of the functionality of these products and solutions is defined by software.
Because of the high cost of developing software, and because of its extraordinarily high business impact, optimizing the software development process has become a top priority at Siemens.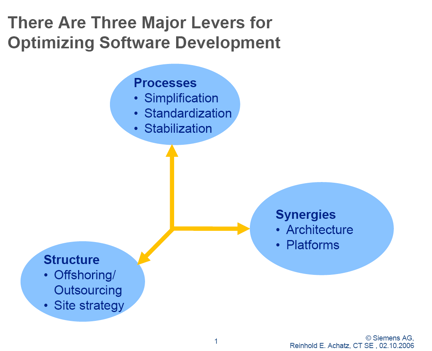 There are three primary levers that have proved to be particularly effective in improving software development:
Simplifying, standardizing and stabilizing development processes and measuring progress according to the CMMI of the Software Engineering Institute,
Making better use of existing synergy potentials, for example by using cross-divisional software platforms and architectures, and
Reducing costs by making structural changes, such as offshoring software development to low-wage countries and using the skills of different cultures, especially in rapidly-developing Asian markets.
The three levers will be described in detail and examples will be provided. The presentation will emphasize the early phases of software development, particularly with reference to requirements engineering and the importance of functional and non-functional requirements.
A simple metrics system to measure success in software development will be presented. The Siemens Software Initiative, a company-wide program specializing on software engineering and management at Siemens will also be described.
Biography
Following completion of studies in electrical engineering at the University of Erlangen-Nürnberg, Reinhold Achatz joined Siemens Automation in 1980 as a software engineer. He held numerous management positions, including head of development for industrial automation systems (SIMATIC) before being named division president for the A&D Systems and Software House in 1998 (in addition to his development position).
In 2000 he joined Siemens Energy and Automation as vice president and served as a member of the Executive Committee of SE&A. Based in Atlanta, Georgia, he was responsible for Siemens' US industrial automation and software business.
Since 2002 he has served as vice president for Software and Engineering at Siemens Corporate Technology in Munich with responsibility for Siemens' software and engineering strategy. These duties include responsibility for research and development work pertaining to development methodology, software quality, software architecture, system- and software processes, innovation and project management, engineering of complex systems, and intelligent optimization solutions. In addition, he is responsible for Siemens' worldwide Software Initiative, which contributes significantly to Siemens' software strategy.
Mr. Achatz is a member of Siemens' Innovation Steering Committee, and is a member of the Siemens VDO Technology Board. Since 1995, he has been a board member and vice president of the OPC Foundation. In addition, he is a member of the board of the EU's ARTEMIS project, as well as board member and vice chairman of the EU's NESSI Technology platform. Mr. Achatz is also a member of the Fraunhofer Institute's Consortium on Experimental Software Engineering (IESE) in Kaiserslautern, Germany.