Welcome to ISR's 2004 Research Forum
---
Thank you for making the Forum a success!

View Forum Photos.
---
This event brings together researchers, leaders in industry, and technical practitioners in a multi-disciplinary environment to:
discuss current research areas and technical trends in the fields of software development and interactive collaborative technologies;

showcase current ISR research;

formulate visions on strategic future research and technological directions;

encourage interaction among academia and industry through exchange of ideas and sharing of experiences.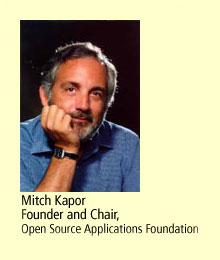 A major goal is to encourage collaborative research and technology transition.
Themes. This year's Forum focuses on joint industry/academia concerns in open source development; bridging the gap between research and practice; use case scenarios; weblogs; and areas such as software architecture, software design, CSCW, interaction and collaboration.
Program Highlights.
We are pleased to feature a keynote presentation by Mitch Kapor, Founder and Chair, Open Source Applications Foundation and Founder of Lotus Development Corporation and the designer of Lotus 1-2-3.
Other program features include: