Welcome!
Welcome to the ArchStudio 3 homepage! ArchStudio 3 is an open-source software architecture-based development environment developed by the Institute for Software Research at the University of California, Irvine.
This is where you can find all of UCI's latest enhancements and tools for the ArchStudio 3 environment.
---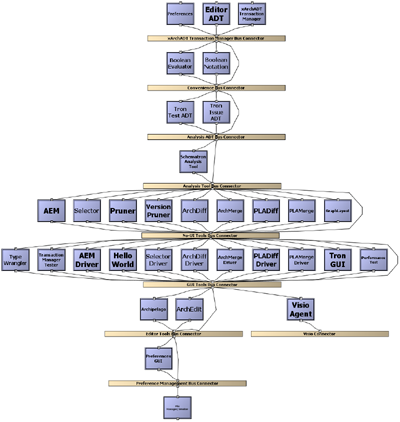 ArchStudio 3's Architecture as rendered automatically by its Archipelago graphical editor
---
Latest Updates:
The latest feature updates for ArchStudio 3 are always available in the ArchStudio 3 CHANGELOG.

[March 28, 2005] - The Critics Framework has been retired in favor of a completely new and improved analysis tool framework called the Tron Framework. We've also added a comparison between Tron and the Critics framework.

[January 4, 2005] - By popular demand, Scott Hendrickson has implemented a mechanism, called xArchFlatProxy, that allows you to use data-binding-style interfaces to access xArchADT. See the new xArchFlatProxy page for details. Developers with AutoComplete-enabled environments rejoice :)

[June 13, 2004] - Website redesign to keep a consistent look and feel with ArchStudio 3 build 1046 and above.

[November 12, 2003] - ArchStudio 3 javadoc is now online.
---
What is this site?
This site is a site for software engineers and software engineering researchers interested in working with and contributing to the ArchStudio 3 project. It includes documentation for component developers and introductions to the various tools that make up ArchStudio 3. Over time, this site will continue to evolve along with the ArchStudio 3 product.
---
Contact Us
If you have questions not answered by this website, please feel free to contact the software architectures group at UC Irvine at arch@ics.uci.edu.
---
Portions of this site Copyright ©2000-2005 The Regents of the University of California. All Rights Reserved Worldwide. The development of ArchStudio 3 was initially funded by the DARPA DASADA (Dynamic Assembly for Systems Adaptability, Dependability, and Assurance) program. The site now includes results from projects supported in part by National Science Foundation grants IIS-0205724 and CCF-0430066.