All Packages  Class Hierarchy  This Package  Previous  Next  Index
---
Class c2.demo.StackVisualization

java.lang.Object
   |
   +----java.awt.Component
           |
           +----java.awt.Container
                   |
                   +----java.awt.Panel
                           |
                           +----java.applet.Applet
                                   |
                                   +----c2.demo.StackVisualization

---
public class StackVisualization

extends Applet
StackVisualization class.

Implements a C2 architecture that provides two different visualizations for a stack. One visualization displays the entire contents of the stack, while the other one displays only the value of the top stack element and an arc from zero to stack_top mod 360 degrees.

Executes both as a standalone application and an applet. The architecture looks as follows: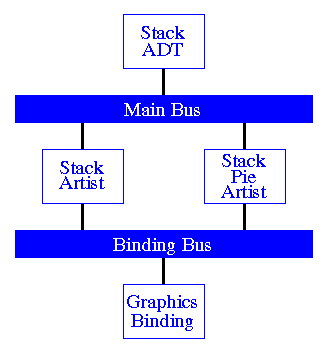 A textual equivalent of the above architecture is displayed once the architecture is built.
See Also:
---




StackVisualization

  public StackVisualization()



main

  public static void main(String argv[])


init

  public void init()

---

All Packages  Class Hierarchy  This Package  Previous  Next  Index